Fed-IP 35 under 35 bursary programme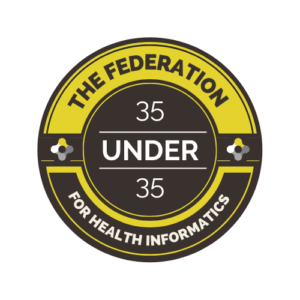 The '35 under 35' programme has been created to help identity, promote and support future digital leaders and future talent in the UK health informatics and digital health sector.
The programme has been launched as part of the 'Year of the Digital Profession', which seeks to encourage the growth and maturity of the digital professions, to support the building of specialist skills and to support organizations to deliver sustainable digital transformation.
FEDIP has pledged to demonstrate our commitment to success through diversity by supporting broad and inclusive pathways into the health and care informatics profession by working with the professional bodies and with employers.
The bursary will cover a place of the Digital Health Networks Summer Schools and one-year membership of a FEDIP Member Body, which comprise of the following Professional Bodies:
Association of Professional Healthcare Analysts (AphA)
The Chartered Institute for IT (BCS)
The Chartered Library and Information Association (CILIP)
Institute of Health Records and Information Management (IHRIM)
The Faculty of Clinical Informatics (FCI)
Society for innovation, technology and modernisation (SOCITM)
Current FEDIP registrants and existing members of professional bodies will be given priority treatment during bursary allocations.