Developing high performing clinical informatics teams– in partnership with FCI
Discover the latest strategies and initiatives by the Faculty of Clinical Informatics to develop high-performing clinical informatics teams. Explore competency frameworks, education, training, and accreditation processes that empower professionals in this dynamic field. Participants will gain insights into comprehensive resources and guidelines to enhance skills, knowledge, and effectiveness
Chair: Dr James Reed, CCIO, Birmingham and Solihull Mental Health NHS FT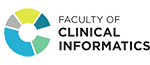 Dr Ameet Bakhai
R&D director local and national UKRD group
NHS whole working life, cardiology day job, R&D director local and national UKRD group, first CRIO at Royal Free passionate about research and all therapeutic innovations – drugs, devices (pacing and stents), diagnostics (biomarkers and wearables) and digital (AI predictive algorithms and data insights and clinical pathways). Have 1st ever Cerner heart failure pathway to nudge diagnoses (3-8x increased) and guidance prescribing (now top 10% adherence) and reduced mortality in hospital with 41,000 patient journeys data. Published >120 papers and used to observation to interventional research studies. recently on predicting arrhythmias and heart failure and now CVD from retinal imaging.
Dr Anita Phung
Portfolio GP, FCI Member
Anita is a recently qualified GP with a strong interest in health optimisation and digital health. She worked for an early-stage health tech start up for 2 years before taking a career break to walk Camino de Santiago. Anita is currently involved in various digital health-related projects whilst considering her role
Dr Marcus Baw
GP & FCI Fellow
I'm a practicing clinician (a GP in Yorkshire) and a self-employed developer specialising in Ruby/Rails. I have a role for the RCGP as Deputy Chair of the Health Informatics Group and I currently run the technical side of the Digital Health Discourse platform on which the Networks are based.
Haris Shuaib
Head of Clinical Scientific Computing – Guy's & St Thomas' NHS Foundation Trust
Chair
Dr James Reed
CCIO, Birmingham and Solihull Mental Health NHS FT
July 28 @ 14:20
Dr Ameet Bakhai, Dr Anita Phung, Dr Marcus Baw