About us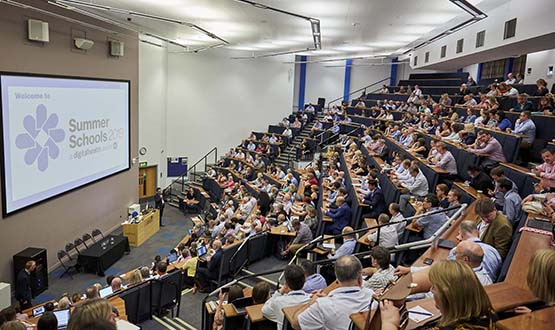 Digital Health Summer Schools returns to the University of Birmingham, 15-16 July, 2021 back as an in-person event at a key moment in the development of digitally-enabled health and care.
Dedicated to CCIOs/CIOs/CNIOs, together with all current and aspiring digital health leaders, Summer Schools is the most popular and friendly NHS IT leadership event of the year.
Summer Schools will once again provide two-days of rewarding education, networking and best practice exchange, providing you with a unique opportunity to learn from the very best digital health leaders from across the UK and internationally.
Pandemic permitting, we'll once again be bringing the brightest and best NHS IT leaders together for the kind of networking only a residential Summer School enables. But after going virtual and international in 2020 we'll also be keeping the best of online and will also live-stream key sessions and look forward to welcoming speakers and delegates from around the World.
If you haven't attended Summer Schools before 2021 promises the most interesting agenda ever. Whether you are coming for the first time or are a regular you will be made very welcome and learn a huge amount from your peers.
Summer Schools 2021 topics will include: where next for digital in health? How can digital gains won during Covid-19 now be secured? And how can digital leaders now harness the tectonic shift in culture and attitudes to be bolder and go further and faster?
With an educational programme that span keynote speakers, case studies, panel discussions, workshops and masterclasses as well as great networking and a full social programme get set for a packed two days. All sessions will be fully CPD accredited.
Organised by Digital Health the leading publisher, intelligence provider, host Digital Health Networks the UK's largest health IT community, and organiser of Digital Health Rewired the leading trade show in the sector
Summer Schools is exclusively available for members of Digital Health Networks, which is free to join for NHS and public sector.